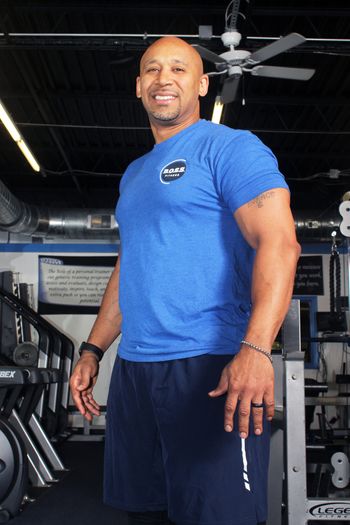 WE BELIEVE IN DELIVERING ENERGY, CREATIVITY, AND MAKING AN IMPACT.
In 2004, James Gullatte came to Columbus with $95 in his pocket and one goal: to help as many as possible get fit.
What he lacked in money, he made up for in ambition. but to achieve his goal, he knew he'd get his hands dirty-literally.
He accepted a janitorial job at a local gym.
"For me, I wanted to position myself to really succeed," says Gullatte, a certified IFPA Master Personal Trainer. "I did this by starting at the bottom. I planned to start as a janitor. The bright lights of success didn't cause me to look past the hard work aspect of being a business owner."
While he cleaned, he also offered training tips to the gym's clients. Soon enough, they were seeking him out for advice.
Gullatte then got a training job at another gym, working as an independent contractor and paying the owner for use of the facility. His client list grew, but when he and the gym's owner couldn't agree on a new employment arrangement, he found himself without a place to work. As a result, the number of clients he had dropped from 15 to five.
Gullatte kept his remaining clients, though, and eventually business picked up. His income tripled. "I had a vision and wasn't going to let anyone, including myself, derail me from getting there," he says. "Prayer, faith, and hope were my crutch when things became difficult. The only thing I can never do in the world if I am going to succeed is quit on me."
He'd begun working at a new gym, but after a few months, he decided it was time to go out on his own.
In 2007, he opened B.O.S.S. Fitness Studio at 1079 N. High St.
"We were in the Short North location for five years," he says. "We had an opportunity to purchase a great building in a great location and we jumped at the chance to actually own 100 percent of our business."
The gym opened in mid-to late- September of 2012 at 333. E. Livingston Ave. in German Village.
Though Columbus is home to many gyms, Gullatte says B.O.S.S.'s "Community feel" separates it from the pack. B.O.S.S. truly is more than a simple health club in Columbus, it is an experience that changes people.
"We care if you reach your goal," he adds. "We believe in energy, motivation, inspiration and caring about our community."
Gullatte stated, "We have to be all in for this to happen. There are folks counting on us for many reasons. This means so much to me, building something and having a community of individuals supporting my dream. I personally can never take this for granted."
In the future, Gullatte wants to continue creating jobs and getting folks in shape. "I believe in order to be heard, one has to accomplish something," he says. "B.O.S.S. Has been a voice for the believer and vision seeker. I don't see that stopping! Just getting stronger."
Are you ready to join the journey of fitness training in Columbus with our team? Join the community and talk to a certified personal trainer today.