COMMUNITY
GOING THE EXTRA MILE
At B.O.S.S. Fitness Studio, all of our participants are special to us. Each month, we feature ONE who we believe beat the odds or inspired us in a special way. Congratulations to all of them!
B.O.S.S. Fitness is a close-knit fitness community that provides the energy, motivation, inspiration and individual care you need to succeed!
Each month we feature a B.O.S.S. member who has shown tremendous growth, stamina of strength or overall lifestyle improvement. Check back each month to meet another member of our fitness family who has achieved awesome results! B.O.S.S. Fitness is more than just recreation, but a way of life! If you are interested in joining our B.O.S.S. community and the fitness fun, contact us today!
---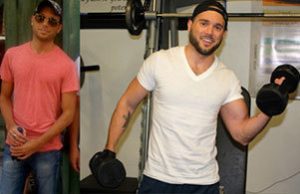 MICHAEL MILLER
While most of us are looking to tone up or lose weight, there are the few who would like to gain some weight along with some muscle! Mike has lived his whole life being the little guy. When Mike came to B.O.S.S. weighing in at a whopping 124 lbs, all he wanted was to gain weight and pack on the muscle!
When you have a high metabolism like Mike, it takes much more discipline, supplementation, and eating almost to the point of bursting open to gain the weight. It is a tedious process. He has tried other places but to no success. Mike gave it one last shot to gain the weight . . . and now he is Big Mike!
To date, he weighs in at 150 lbs for a gain of 26 lbs and 63 inches of total overall muscle mass. I think it is safe to say we can call him Big Mike. His friends and family look at him and say "Wow!" If only the kids in high school could see him now. "Big Mike" you have definitely earned the top spot – Community Member of the Month!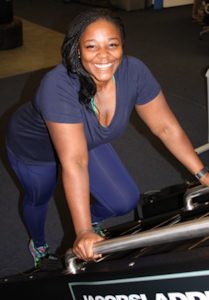 MICHELLE BEANE
"The Beane Firm doesn't get paid unless you do!" Lol … A joke with Michelle, an accident lawyer committed to running her own business. She has grown to become a loyal B.O.S.S. Community Member as well.
Her commitment to herself and to her fitness goals didn't come without its challenges. By nature as a lawyer, you have to be argumentative. Michelle had to learn to believe that B.O.S.S. was the avenue to get her to her fitness goals. Once dedicated to B.O.S.S., she started training 3 times a week while also taking advantage of our Fitness Classes. In her 6 months with us, Beane has lost a total of 26 lbs., 14 total body inches, and 6.3% body fat.
The stats ring true. Make a commitment to yourself and to your fitness program and watch your results roll. Let's Go Beane. Results Do Matter!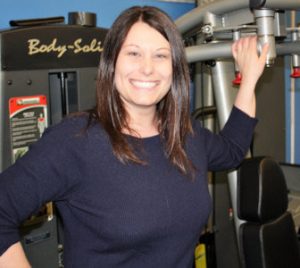 JENNA KARRAS
Straight out of Wisconsin . . . Yeah, that's our Jenna. And let me say this: I call Jenna's name during a workout about as much as I call Tanya and Quinn. Just like the latter two, Jenna is now a Member of the Month also.
The 20 pounds that she has lost doesn't tell the whole story. Let's talk about getting focused and motivated and having goals and reaching them. Really soon, Jenna is going to become a bride and our job together has been and still is to make her the prettiest bride of them all. I personally believe we have reached this goal.
By working out twice a week with her really great trainer and focusing on portion control and meal selection, Jenna has gotten to this marvelous point where she is happy with her accomplishment, happy with her career, and happy in life. That, my friends, is called a triple double. Ha! Congratulations, Jenna Jenna, from the entire B.O.S.S. Family!
And always remember RESULTS DO MATTER! OH YEAH!
---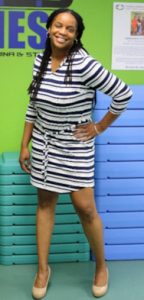 CADASA SHELLOW
I started to feel burned out trying to juggle work and being a first time mother. I noticed a difference in my weight gain and integrity of work and at that point I knew it was time for a change. I jumped back into working out with BOSS after an 18-month hiatus. It was hard but I refused to stop even with a shoulder and foot injury. I persevered, created more mental energy, and balance began to return back into my life.
Starting back working out has been a life motivator and I love the results. Now, six months later and 35 pounds down, here I am feeling wonderful and able to keep up with my toddler. I appreciate the push I receive from the most amazing trainers Taj and James. Results Do Matter!Thank you so much!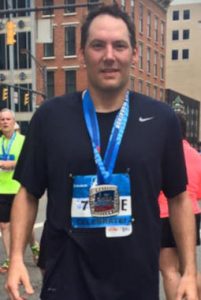 MATT ANDERSON
Results do matter! As do hard work, perseverance, determination, and motivation. After reconstructive knee surgery in January 2016 to repair a torn ACL, I spent the next 3-4 months unable to do any cardio and particularly no running. I continued to work out at B.O.S.S. with the main focus on lifting and my upper body and at the same time performing grueling leg exercises for an hour each day. It was tough!!
I gradually eased back into running but only for 5 to 10 minutes at a time. When fully cleared for running, I had minimal stamina and endurance and could barely run 2-3 miles. I started playing basketball again 6 months removed from surgery and Taj continued to push me hard at the gym.
In addition to my weekly workouts, I conditioned on my own several times per week and continued to build my stamina. After a full year of very hard work and lots of perseverance, I just completed my first half marathon in 1:57 at a pace of 8:57 per mile. This goes to show that results do matter! I worked extremely hard over the past year to get to this point and I give my man Taj (Please!) lots of credit for pushing me at the gym and helping me get to where I am today.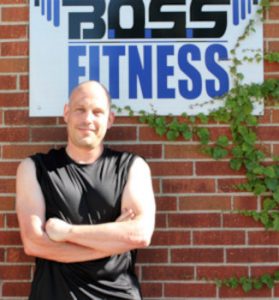 SCOTT BOISVERT
Decided back in November that I needed to lose some weight. Tried some of those shakes and eating healthier. Lost some weight, about 15 pounds, but I was still wearing the same 38″ waist pants. They were a little loose, but not much difference.
Stopped losing weight, and my buddy Ken kept telling me about B.O.S.S. and his personal trainer James. I've tried personal trainers before and never lasted more than a couple weeks because their workouts were all the same and boring. But Ken kept pushing me and I finally gave in and set up an appointment with James.
Best decision I've ever made. The workouts are by far not easy, but they are never the same. James mixes it up and his unique motivational style has kept me coming back. Can't forget to mention Taj, another motivator at B.O.S.S., his core and more class has been a huge help in my progress. I'm now down from a 38″ pants waist to a 32″ and I'm in better shape than I was in high school.
Physically I feel 110% better than when I stepped through the door back in March and I know I look better too. Still have some work ahead, but I look forward to it. Results Do Matter! Thanks Guys!
---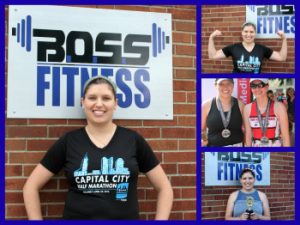 SARAH TAPYRIK
I joined Boss Fitness over a year ago – at a time when I neded a lot of help with staying motivated to workout, eat healthier and just feel better in general. I definitely found the right place! James and Taj approach every work out with unbelievable amounts of energy which certainly helps inspire me to give 100%. No matter what time I go in for my work- outs, from early mornings to the hour before closing, the pounding music and high fives that greet me put a smile on my face and make even the stairmaster seem bearable; my music preferences have even been acknowledged and some Bruce Springsteen (THE Boss) songs made it to the playlist! While weight loss was my initial goal (and there have been pounds and inches lost) ,I've found that being strong and fit and healthy is an even beter feling! I have always enjoyed traveling and I went on a wonderful and active trip this past spring, hiking along the coast of Portugal. I also got back into triathlons and placed first in a team Olympic distance triathlon relay (I did the mile swim) and completed the Ros TriFitChallenge sprint distance (.45 mile swim, 13 mile bike and a 5kr un) triathlon, beating Taj in the proces. I couldn't have asked for a better gym and I'm so grateful for the training and friendships I found at B.O.S.S Fitnes. Results Do Matter!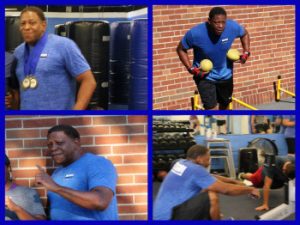 BIG JOHN
When you talk commitment and supporting a community! We have to mention Big John… This guy has been a part of the B.O.S.S. Community for 7 years! Johnny has run marathons, lifted all the weights in the studio, supported events, and the most encouraging characteristic about Johnny is how he shows so much support for other members. Johnny tries his best to keep a warm smile and a welcoming demeanor. Johnny represents exactly what a member of the B.O.S.S. Community is. Results come in so many forms and honoring someone for being an ambassador of our community outweighs the scale, tape measure, and body fat machine -even with his weight loss and the shaping and building. Johnny continues to remain in great shape by being on time and never skipping on a workout. Johnny, from the bottom of our heart, we appreciate you and we hope you continue to bring your positive energy to our community for years to come. Thank you bro!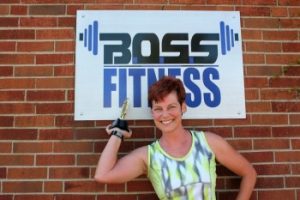 AMY FLOWERS
How do you honor someone who has fought cancer, ran their first 5k, got back into shape, lost the weight gained through their struggles and let's not forget the size 6 dress? Ms. Amy is like a hero. We didn't fight against each other, we fought together. With all the work she does in her career! Lifting, squatting and directing, it was paramount that Amy have her strength and endurance to remain relevant for herself and the folks counting on Amy to handle priceless pieces of art in a professional and timely manner.
A Kick Butt Award and Member of the Month award does not do Ms. Amy any justice for the strength she had to have in order to beat cancer. Myself, I am truly honored to have gotten to know someone who has faced something so foreign to me. Ms. Amy, this Member of the Month and Kick Butt Award is for you! All of us here at B.O.S.S. give you our unique greeting, goodbye, and celebration: A BIG HIGH FIVE! BOOM, Results are everything!
---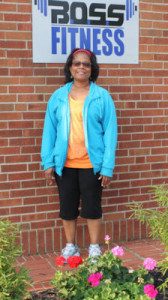 ROBYN HOOKS
Results are not always measured by numbers. Results can be measured by setting a goal and accomplishing that goal. Ms. Robyn has not only accomplished her goals, but has achieved much more than she even thought was possible! When Ms. Robyn came to B.O.S.S., she was still in physical therapy for a knee replacement. She had developed a mistrust in her own abilities and even doubted whether B.O.S.S could help her. She told us what she couldn't do, what she was going to do, and why she couldn't get there. She needed to know that B.O.S.S would not hurt her and that we were the place to bring her back! We needed to earn her trust.
Her goal was to walk and sit long periods without pain and to be able to do at least some of the activities that she used to do. Ms. Robyn has exceeded her goals. She now runs on the treadmill and does the Stairmaster on non-training days and attends classes with little to no knee pain.
Ms. Robyn says she passes a few gyms on her way to B.O.S.S each morning but she comes to us because we care and "you guys are friendly." We appreciate you and keep up the hard work Robyn!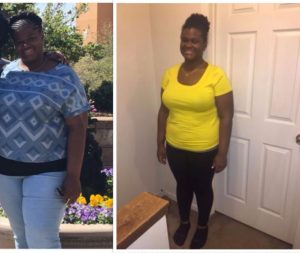 CURRENT COMMUNITY MEMBER OF THE MONTH – Diamond Long
Diamond Long has been at B.O.S.S. off and on for about 4 years! This woman is a fighter. She has struggled with her weight all her life. Exercise and fitness are not things that her family and friends are accustomed to! Diamond faced this challenge with her weight without the support of the people in her life. When you have no support other than Your B.O.S.S. family, it is easy to lose sight of what it is you want to accomplish!
Diamond had to leave behind the person she was to become who she is! When training, Diamond will say "I don't want to do that," but she pushes through to get it done because she knows diet and exercise are the keys to accomplish what she wants in her heart. That was what kept her going through the ups and downs and finally, success! 49 lbs and 8% body fat later shows that her stick-to-it-ness has yielded some big results! Diamond, continue to fight for your goals! Failure along the way doesn't mean you've failed. It just means you're not done yet.